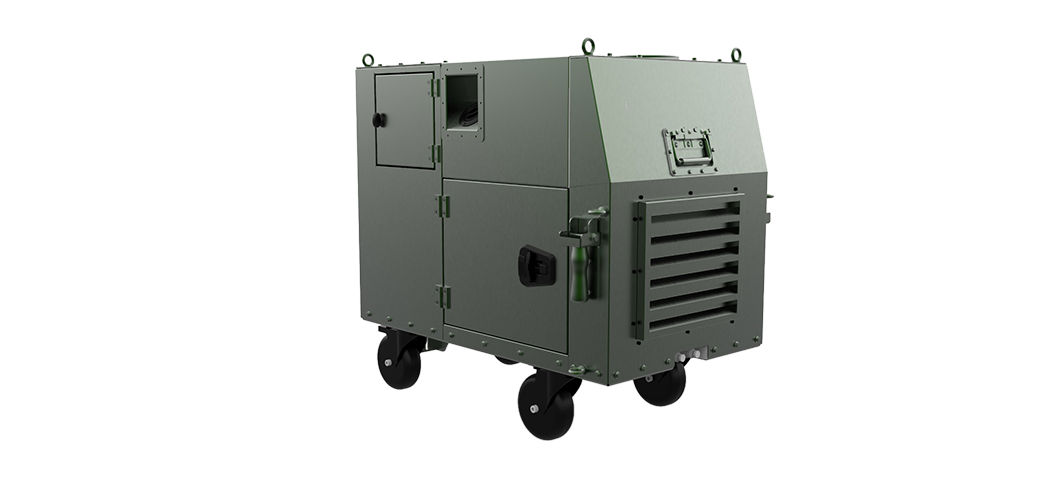 Generators are the systems which turn mechanical energy into electric energy and they provide continuous power requirements and energy needs of Turkish Armed Forces and law enforcement forces during battle with high efficiency at NATO standards. Generators are grouped according to their dimensions and types. Nero Industry can design, test and produce special sized generators between 2 KW and 1000 KW conforming to NATO Military standards. It produces super silent generators with 65 db sound level at 7 meters. Dual type generators which backup each other and also communicate, are other equipment of generator family. It creates solutions for the requirements of law enforcement forces as mobile and stable.
ADVANTAGES G5M GENERATOR CONTAINS:
• The generator has the capability to get activated automatically in case the mains electricity coming to equipment shelter is cut.
• Military model AGM battery is used on G5M.
• Generator battery provides at least 40Ah capacity. (Battery has the capacity to activate the generator at least 3 times at -32°C ambient temperature using pre-heater.)
• G5M has Diesel engine, F54, F34, F65 operate with fuel.
• Control board, has IP67 protection standard.
• Generator has the capability to operate at full-load for at least 8 (eight) hours by its own tank without any refuel.
• It enables 220 VAC/50 Hz single-phase output.
• The connectors on the generator are produced in accordance with MIL-DTL–38999 and/or VG95234 standards.
• 3 years of Guaranty.


An advanced digital control panel that displays diagnostic data and provides performance control

Safe closing in critical situations

Harness, control panel, sound enclosure, remote fuel pump and lifting equipment

External fuel pump for filling the fuel tank



GENERATOR TYPE
Mobile Generator




COOLING SYSTEM
Water Cooling System


CONNECTION TYPE
CANBUS/Serial/Ethernet

SOUND LEVEL
95 Db in 7 Meters


OPERATING TEMPERATURE
-32 / +55 °C

STORAGE TEMPERATURE
-40 / +60 °C

FUEL TYPE - CONSUMPTION
Diesel - 3 LT/H


DIMENSIONS (L x W x H)
922 x 635 x 917 ±5 mm





STARTING SYSTEM
Electrical Starting System
ENGINE TYPE
Water Cooling Vertical Diesel Engine
ALTERNATOR SPECIFICATIONS



VOLTAGE SENSITIVITY
± 2% V
Discover our most popular products
Join

more

than

100

satisfied

clients
Speak to us about your project